´
United for assistance dog teams
Together we can establish quality and funding
Teams deserve our help!
Assistance dog teams are breaking new ground and proactively designing their own solutions.
Their partnership, discipline and care fascinate – but unfortunately they are often left completely to their own devices.
Seven barriers are currently standing in the way of people with disabilities to acquire a good assistance dog. This is not fair – but we can change that!
Join us so that…
the path to an assistance dog becomes easier,
quality replaces improvisation,
teams are better supported and
new teams are funded.
About assistance dogs
Assistance dogs live permanently with their humans and mitigate their disabilities through carefully trained assistance. They provide important assistance for their owners to live safer and more mobile lives. Assistance dog teams therefore have access everywhere people are welcome in street clothes and deserve special support. Find out more in our digital exhibition. In addition to guide dogs for the blind, which are financed by health insurance in Germany, many other types of assistance dogs (videos) are almost unknown and are under-funded.

This is how we are creating positive change:
✓ Independent, objective assessment: Our comprehensively documented exam answers the question, "How do I recognise an assistance dog team"?
✓ Demonstrating impact: Meaningful research convinces high performers and thus improves the sector.
✓ Solid foundations: Standards, independent exams, and academic analysis improve acceptance and progress.
✓ The goal: Comprehensive support: We establish partnerships and support structures so that teams are better supported.
Who is the Assistance Dog Foundation?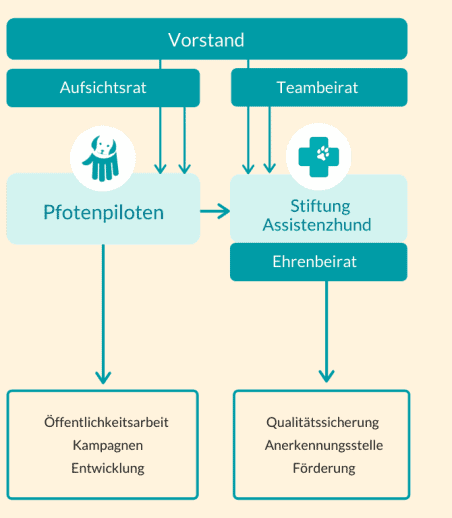 Assistance Dog Foundation is a direct subsidiary of Pfotenpiloten and focuses on quality assurance and sustainable funding structures. The division of tasks became necessary to do justice to the many fields of activity needed to support the assistance dog sector.
We do not train teams ourselves, but aim to be able to support them in many ways soon. To this end, we are establishing various partnerships in addition to a team exam – but we take strict care to remain independent of interest groups.
In addition to the assistance dog handlers, we consider the needs of the dog, trainer, public and supporters – because only a concept that suits everyone can develop optimally.




Shareholders' meeting
On 06.08.2020, Assistance Dog Foundation was brought to life by the board of Pfotenpiloten e.V. as a direct subsidiary of the association.
Our supervisory board
As an initiative of Pfotenpiloten, the Assistance Dog Foundation is further accompanied by our Supervisory Board.
Why we do not (yet) fund teams
Although it would be more satisfying to simply fund teams to enable people with disabilities *to be more mobile today*, it would only help a small group. At the heart of the problem is lacking structures and the improvised state of the sector.
To make systematic funding possible in the future, we will first focus on the basics. We build understanding, develop independent structures and develop reliable ways of quality assurance.
On the way to a reliable solution, there are still
seven barriers that prevent a successful life with an assistance dog.
Germany (and many other countries) make it difficult. They all arise from a lack of fundamentals – improvised career paths, lack of information, lack of quality assurance.
A long-term effective solution must take into account all parties involved: Not only the owners with assistance needs, but also the dog, the trainers and the public.
Once clear structures have replaced the current improvisation, it is possible to build systematic support on them – making the path easier and safer for everyone.
We still have a long way to go!
To build effective structures and solid foundations as an independent organisation, we need your help.
Assistance Dog Foundation is a
non-profit organisation working for better foundations. To this end, we form a variety of
partnerships – but always
always take great care to remain
from interest groups.
Our independence is central to
our work. That is why we do not
train teams ourselves, and we never will.
Although we naturally focus on the handlers, we also keep the needs of the dog
the trainer,
the public and the supporters at the forefront.
We are convinced that only a
concept that suits everyone can develop
can develop optimally.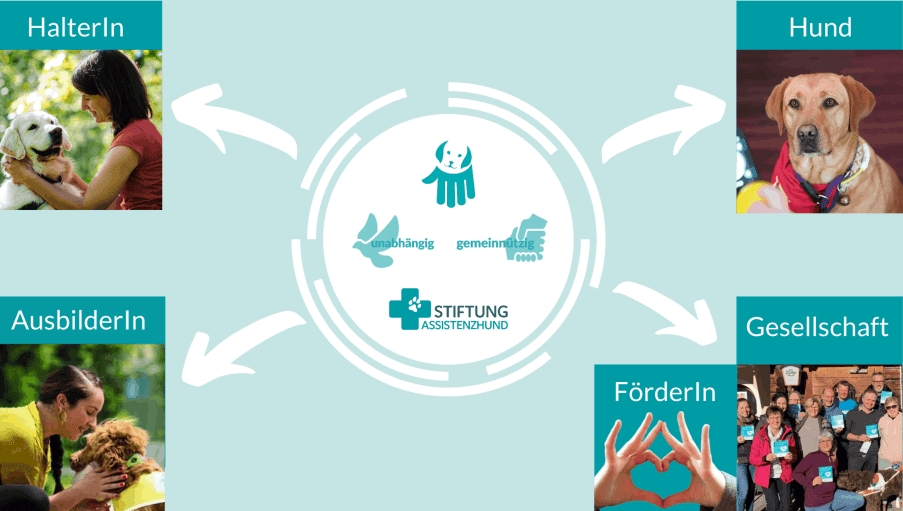 '