Assistance Dog Team Exam Assess360™
An independent, well-structured and objective assistance dog team assessment is important to secure the requirements for access rights – and to do so as individually and in as relaxed a manner as possible. Learn more about how we guide you with a fair, reliable video and assessment format with excellent quality management. Assess360™ is the registered name for the newly developed, patent-pending process developed by the Assistance Dog Foundation. The "360″ refers to the 360-degree video perspectives that are filmed during the assessment for a revolutionary objective, well-documented process.
Qualification for official ID – German government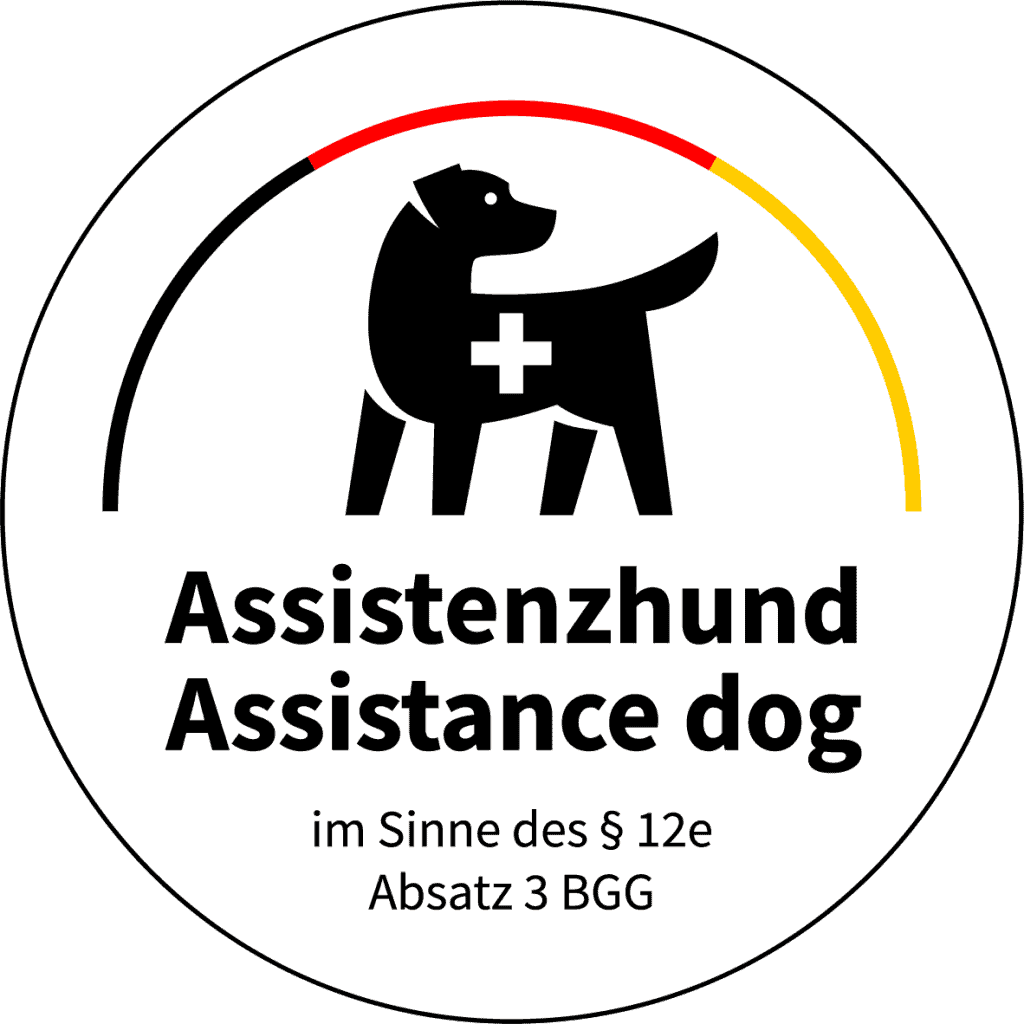 The exam process
Quality management and data protection
All employees who come (or could come) into contact with your personal data or videos are bound to data protection by very strict contracts. There are also contractual agreements with external service providers. Regarding the implementation of data protection, we are supervised by an independent data protection officer who advises and helps to manage the processes in a data protection-compliant manner.
In addition, the Assistance Dog Foundation's exam concept is subject to comprehensive quality management in accordance with DIN ISO 9001:2015, approved by TÜV Rheinland. You can therefore be fully confident that the exam is subject to the same quality standards for everyone. Quality management defines quality as a process: Transparent procedures, clearly defined, ensure "progress" when all steps are regularly monitored and improved.
Well planned and relaxed
After you have registered for the exam without any obligation, the first step is to check whether you and your assistance dog are qualified according to the Assistance Dog Ordinance (AHundV) (in Germany). The comprehensive health check is not required for assistance dogs who started their training before 1 July 2023, they only need a current veterinary certificate.
Once this step is complete, you will be invited to take the theory exam, which is usually held via Zoom (modifications possible if required). You can prepare for this with the free theory handbook we provide (in German).
After you have passed the theory exam and paid the fee, you will be registered for the exam. Exams take place, where possible, in your local area. To this end, you submit your usual daily routine and suggestions for a route, as well as emergency information and any special requests. The day of the exam is then arranged and prepared.
What does "360-degree video" mean?
You can try it out for yourself! Play the example video and drag the frame back and forth by clicking, holding, and dragging it with your mouse. You can see what a 360-degree video captures: Everything! All around, above and below: everything is captured seamlessly and reliably with just one camera. Assess360™ uses several of these cameras so that everything is documented clearly and continuously.
Extensively documented
Assess360™ is designed to do great things but require minimal on-site operation. The technology works without distracting or disturbing you or others. The video officer follows you at a distance of a few metres, only making themselves known to communicate instructions issued by the exam supervisor. Videos and conversations are recorded securely, and invisible stimuli (e.g. smells, unusual temperatures or weather phenomena) are communicated through them to the exam supervisor.
A small camera is also attached to your upper arm or wheelchair etc. This allows the examiners to see situations from your perspective. Everything from your dog's facial expression and body language to the way you interact with your dog is included in the exam recordings. These authentic impressions of your partnership, your own perspective, which is so valuable, cannot be seen or documented in traditional exams, where the examiners walk behind you. Even a traditional camera cannot capture them.
Exam supervision and procedure
An exam supervisor follows the whole process via livestream. She sees and hears everything via an encrypted video link. She is in constant communication with the video supervisor via headphones – as if she were there herself. However, while she is guiding the exam and cross-checking it with the route and list of tasks to be completed, she is not distracted by her own activities and interactions on site, but can fully concentrate on ensuring a smooth and efficient exam. In case of a medical emergency, she has your instructions at hand and knows quickly what needs to be done. Throughout the planning and implementation process, we always respond to your personal situation in the best possible way. However, it is also important that the requirements of the Assistance Dog Ordinance (AHundV) and international standards for a good assistance dog team are met at the same time, because passing the exam certifies an assistance dog team of high quality.
To avoid overwhelming the team, two periods of about two hours are scheduled on the day of the exam, but these are not always needed. This proactive planning is designed to ensure that the team receives any needed breaks, so that no one is overworked. If necessary, it is possible to split the test into additional sessions, but this may incur additional costs.
It is possible for third parties to follow the exam, although we do not actively involve them unless they are part of the assistance dog team (three-person team). Our experience has shown that accompaniment by third parties usually has a negative effect on the performance of the team, as both dog and human are often distracted by it. If you are not yet confident travelling alone with your dog, we advise that you give yourself a little more time and work on your partnership. However, if problem situations arise where the opinions about what happened differ, you can always use the Assess360™ video to clarify the situation.
Assessment
The video and audio material is immediately uploaded in encrypted form to a multi-secured data storage system to which only the video editors have access. They create a single, seamless, high quality video from the footage from all of the cameras. The exam video is then independently reviewed by several examiners.
Our expert examiners are highly qualified professionals in the assistance dog sector who, in addition to their practical skills, have academic and/or other additional professional education. In addition to assistance dog trainers who meet the requirements of the AHundV, an experienced assistance dog handler also assesses your exam where possible – true to the principle "nothing about us without us" – the principle of the UN Commission on the Rights of Persons with Disabilities.
Independent and objective
To guarantee an objective and fair assessment, the examiners do not obtain information such as your name or place of residence, details regarding your training method, training institution or other information that you share with us but is not relevant for the assessment. If the logo of your training institution is visible on your equipment, we hide it from the cameras (and thus from the examiners) by using neutral covers. The examiners – who were not present live on the day of the examination – only know your ID, a 14-digit combination of letters and numbers. They thus assess a completely anonymous team. The goal is an assessment that is objective, unbiased and focused on the human-dog team without bias or distraction.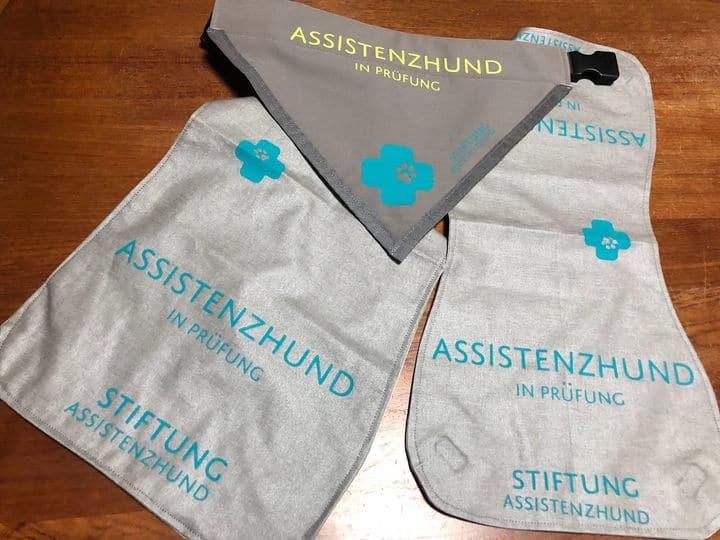 Evaluation
The examiners score each situation and task with a score. To do this, they can rewind, slow down and look at each scenario repeatedly to comprehensively analyse the interaction of handler, dog and environment. This allows for a very accurate and fair assessment.
The examiners do not know how the other examiners have scored a situation or task. Once all examiners have finished, the final grade is calculated. Comments from the examiners are summarised for the assistance dog handler. If there is a large discrepancy between the scores in certain scenarios, this is analysed by the assessment team and discussed.
If the assistance dog team does not pass, the examiners decide on the basis of the overall situation whether the exam can be repeated in part or in full. Here, too, the video format proves its worth: problems can be clearly illustrated and explained, creating a concrete learning experience. This also allows the trainers to clearly understand problem points without having to run through the whole exam.
Costs
Detailed costs can be found on the last page of the German certification regulations. Assistance dog owners who have to finance the examination themselves receive a 50% discount.
Advantages of the Assistance Dog Team Exam Assess360™
| Assess360™ | Traditional Team Examination |
| --- | --- |
| Relaxed and optimally prepared | |
| The video supervisor who follows you does not evaluate, but merely ensures that the technology is working. With the exam supervisor guiding you remotely the exam can run in a very relaxed way. | Being evaluated by examiners live on site can be stressful for both humans and dogs. The focused looks and possible critical reactions in case of a mistake are clearly noticeable and can cause distress. Something unpredictable quickly causes distracted examiners. |
| Everything recorded seamlessly | |
| 360-degree cameras capture everything: right, left, front, back, top, bottom – from multiple perspectives. | Live on site, examiners can only perceive a small piece of what is happening at a time. Movements, environmental stimuli, navigation and notes, as well as fatigue with declining concentration – it's so easy to miss something. |
| Extensively documented | |
| Different angles are recorded throughout and reliably – even your perspective. This allows for a thorough and accurate assessment. | The subjective and limited perspective leads to misinterpretations. An authentic reproduction of the owner's perspective is missing in the traditional assessment. It is precisely this perspective that often says a lot about the partnership. |
| Question perceptions | |
| Situations on video can be repeated and therefore assessed objectively and in detail. Vastly differing scores are addressed together as a team to understand their root cause. | The brain filters most important environmental stimuli for us. To do this, it uses selective or subjective perception: we see what we think we see. This is deeply anchored in our thinking and cannot be switched off. Therefore, video documentation is the only way to provide a reliable assessment of a live situation. |
| High autonomy for the team | |
| The exam should reflect your everyday life. That is why we seek your suggestions where possible and plan longer breaks when necessary. | Traditional tests are often done in one piece, despite this placing a great and unnatural strain on both dog and human. It is important to save expensive expert time and travel costs. |
| Anonymous and unbiased | |
| Examiners do not find out the name, place of residence, type of training or the training institution, personal details, or the scores of the other examiners. In this way, they remain unbiased. | Personal details, preconceived opinions or googled information about the person can influence the objectivity and judgement of examiners who assess live on site. Examiners can also influence each other. |
| Independent | |
| We diligently avoid conflicts of interest. Anonymous exam recordings protect against conflicts of interest on behalf of examiners. | If examiners know the training institution or the client, past experience or the desire for future assignments can distort the assessment. |
| Quality management | |
| Assess360™ is based on a detailed quality management system approved by TÜV Rheinland according to DIN ISO 9001:2015. If an examiner deviates in their assessment ("outlier"), the reasons are evaluated. | "The examiner had a bad day" – who hasn't heard that? With traditional exams, there is nothing to protect you from an examiner's opinion that you question. It's one statement against the other, and in the end the examiner will always have to be right. Structures that are not questioned only improve slowly. |
| Date protection | |
| Data protection is very important to us. We have an external data protection officer since 2018: long before it was mandatory. | GDPR requirements mandate all organisations that come into contact with personal health data, even if they are small, to have an external data protection officer. This is not always the case in the traditional process. |
Thank you, Deutsche Postcode Lottery!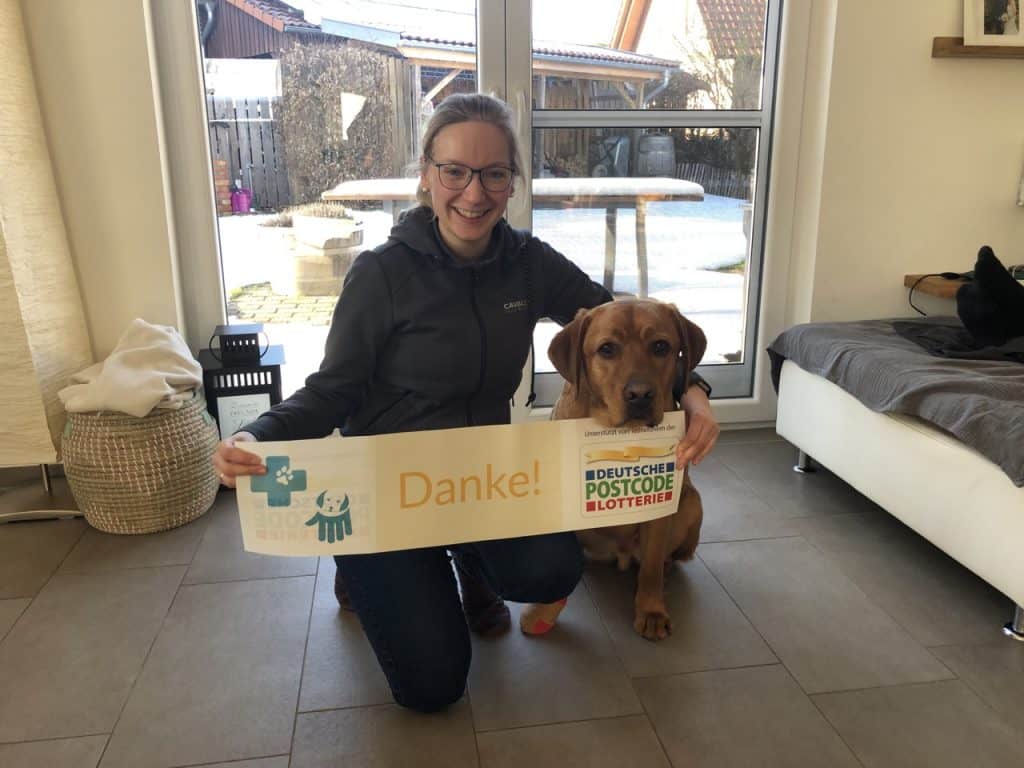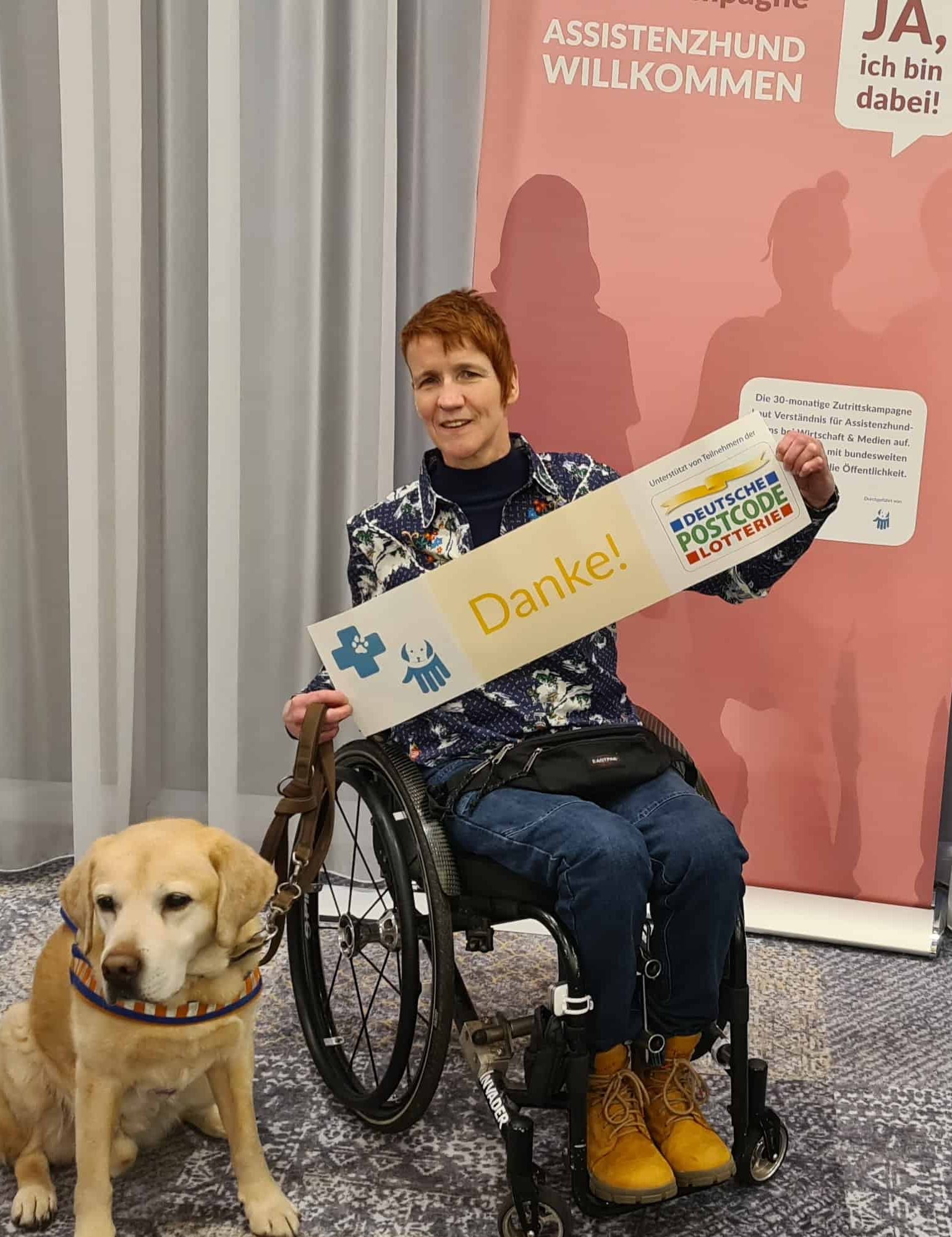 We have been developing Assess360™ since 2018 and are now finishing the pilot phase. The years of development would not have been possible without the visionary funding from Deutsche Postcode Lottery. Assess360™ is an innovative exam format that combines state-of-the-art technology, specialised apps and livestream. The seamless interaction of the process steps and comprehensive data protection are very important. Thanks to the Postcode Lottery, it was also possible to create the many documents and compare them with national and international standards. Extensive testing in practice and the establishment of a solid quality and project management system ensure good implementation. Delayed in implementation by Corona, we have since been able to apply for a patent for the process.
Further information: Theory Handbook, Certification Regulations, Training Agreement 1
Fn 1: Templates for a veterinary certificate and a specialist medical opinion will be provided in the application process.
Here you can apply as an examiner. Here you can apply as a video supervisor.